CHANGING WEATHER OR CHANGING ACTIVITIES
Lightweight, breathable and moisture-wicking mid and outer layers give you the degree of adaptability that will keep you comfortable. Our new hybrid styles bring the advanced technology of MerinoLOFT™ into lighter designs that use it strategically and at lighter grades to provide the perfect insulation for the warmer months.
EXCELLENT WARMTH FOR WEIGHT RATIO
INSULATION WHERE YOU NEED IT
ELLIPSE VEST
Insulation is delivered with precision in this small packable vest. With strategic 70gm MerinoLOFT™ panels over the chest area, it keeps your core protected while sacrificing absolutely no movement or freedom. Use it to back up or cap off any casual, adventure or training outfit with a lightweight layer of protection for a key comfort area.
SHOP NOW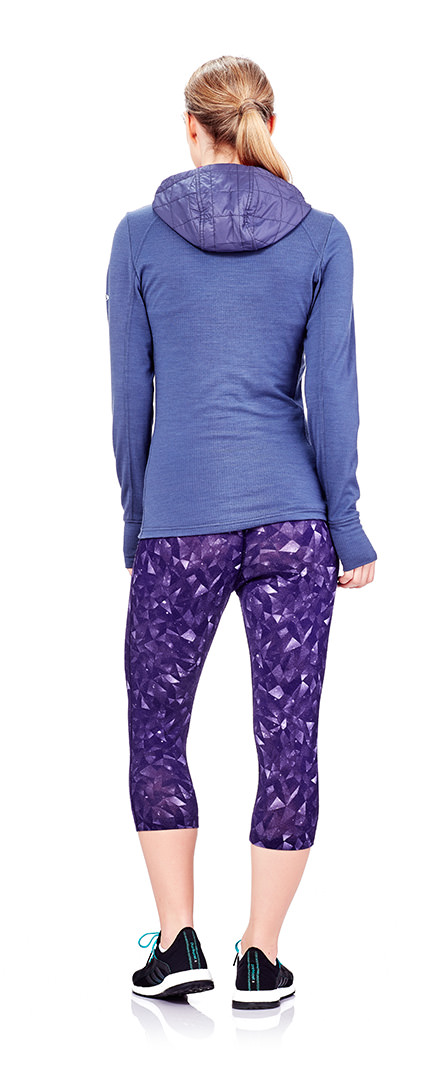 ELLIPSE HALF ZIP HOOD
React to unpredictable weather with the lightweight Ellipse Half Zip Hood. Whether you're out on a ridge trail or down in an urban canyon, the 70gm MerinoLOFT™ panels and shaped hood can give you the protection that makes the comfort difference when the wind gets up.
SHOP NOW
ELLIPSE JACKET
Summer doesn't always live up to expectations. Combining weather protection, full chest protection with MerinoLOFT™ insulation, and super flexible full sleeves of lightweight merino jersey fabric, the Ellipse is a lightweight jacket offering an exceptional combination of breathability and protection. Perfect for out of the way adventures where the conditions are unpredictable, or just days when your schedule is.
SHOP NOW
ELLIPSE VEST
This simple, packable vest uses strategically placed 70gm MerinoLOFT™ panels over the chest and shoulder area to provide warmth and protection in a minimal but functional form. With your arms completely unencumbered and your lower torso in lightweight jersey waffle, you'll find this piece enhances without restricting any training, adventuring or casual outfit.
SHOP NOW
ELLIPSE HALF ZIP HOOD
Don't let unexpected wind chill cut your active day short. With strategically placed 70gm MerinoLOFT™ panels and a shaped hood, the Ellipse Half Zip Hood is ready to block the elements from your upper core area and keep you comfortable when you're out on a hike or hanging about downtown.
SHOP NOW
ELLIPSE JACKET
The Ellipse is a lightweight jacket offering an exceptional combination of breathability and protection. Featuring panels of MerinoLOFT™ technology, the Ellipse delivers natural warmth through wool fibre insulation which will keep you warm even when wet. Its soft, yet durable recycled polyester face-fabric with a DWR finish, provides defence against variable weather conditions. It's the perfect choice for a day when whatever you're doing you don't want to have to turn back.
SHOP NOW
WATER REPELLENT OUTER
Recycled polyester yarn is woven for strength and finished with a water repellent DWR coating.
WOOL INSULATION
Extreme lightweight warmth and insulation, even when wet, is delivered by wool fibre batting.
MERINO LINING
For breathability next to the body, a soft, merino lining regulates your microclimate and keeps you comfortable. Why Merino?
The aim was to design a product that at its core reflected our roots in merino and bring a new level of cold weather performance and insulation that is both highly functional and extremely versatile"
---
Gerard Smith | Senior Global Product Designer
SHOP COLLECTION
DANE BERGMAN | Travelling man
I love lightweight, packable gear that I can scrunch into a ball and shove into a millimetre of space in my bag, and take off to Iceland or wherever — then know that I'm covered."
Dane Bergman, Global Adventurer and great fan of Icebreaker clothing.
It was an opportunity we couldn't pass up.
Trekking across one of the only sea level and zebra striped glaciers in the world in the hopes of finding an Ice cave to explore.
With ice picks and cramp-ons in tow we set off and man was this an experience I will never forget.
Epic times in Iceland."
Follow stories like Dane's @icebreakernz
SHOP COLLECTION